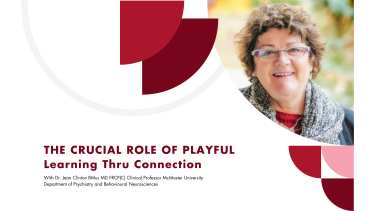 Parent Night: Building Healthy Brains
-
Irene Kelleher Totí:ltawtxw, 2540 Eagle Mountain Dr, Abbotsford
Come learn about what services are offered in Abbotsford for children ages 0-6. Free childcare is available on site, spaces are limited.
5:45 - 6:30 PM | Child Development Fair
6:30 - 8:00 PM | Dr Jean Clinton
8:00 - 8:30 PM | Child Development Fair
The Crucial Role of Playful Learning Thru Connection
With Dr. Jean Clinton BMus MD FRCP(C) Clinical Professor McMaster University Department of Psychiatry and Behavioural Neurosciences
About this Parent Evening
We'll talk not just about theory, and how the brain builds, but the importance of relationships and connection with some very practical suggestions for serve and return, and some exciting ways that kids can engage in playful learning.